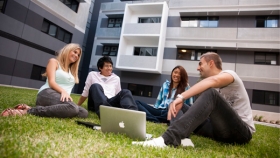 Collaborative learning enables students to play a more active role in their learning. It stimulates critical thinking, improves communication skills and fosters a sense of community and responsibility among students. Through discussions, students can articulate their ideas, refine concepts and develop interpersonal and communication skills. For teachers, collaborative learning and group-based projects can often reduce marking and feedback load associated with individual assessment. 
Collaborative learning can be achieved with the help of technology using:
This is best used for students collaboratively annotating medical images, such as pathology and anatomy images.
This is best used for collaborative learning with interactive tools, such as blogs, discussion boards, wikis, self and peer assessment.
This is best used for students to collaboratively interact with online concept maps (mind maps).
This is best used for students to collaborate outside the classroom.
This is best used for collaboratively writing a paper.
This is best used for text, voice or video communications. 
This is best used for commenting on discussing a relevant topic.
To learn more about these different technologies, click on the above links. Each technology has different capabilities. Please take the time to explore the different options to see which one best fits with your learning strategy and outcomes.
Would you like to know more about collaborative learning strategies? The Learning and Teaching Unit offer further information via the following links: